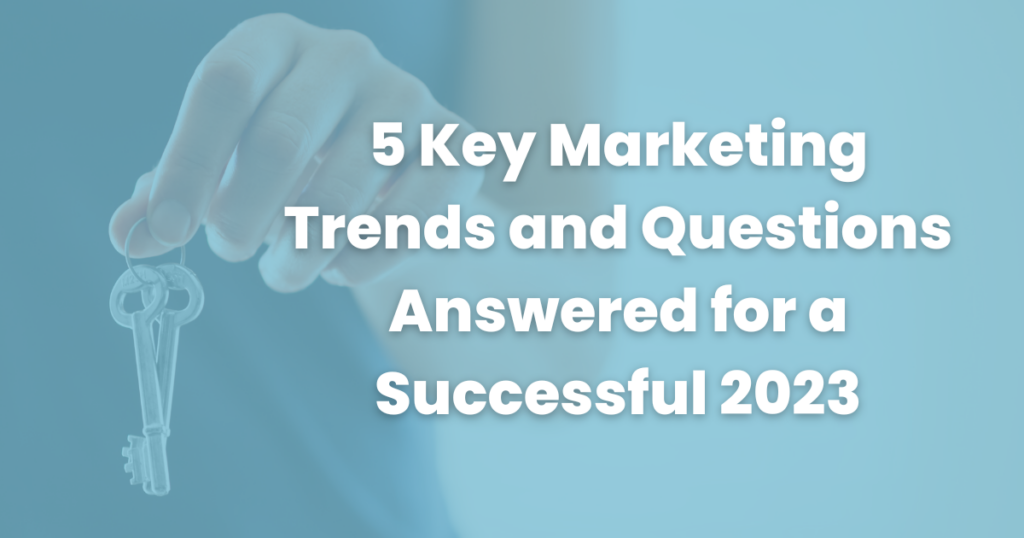 5 Key Marketing Trends and Questions Answered for a Successful 2023
Marketing is an ever-evolving space that feels like it changes like the wind
Marketing Trends change all the time. Juggling social media and technology updates while creating a great customer experience is challenging. It takes work to stay ahead of the game.
Recently I was asked to speak on a podcast with my local Chamber of Commerce about marketing and trends. I shared my insights on how psychology, technology, and a possible recession will affect how you market your business in 2023.
As a small business owner, I understand. Like many others, I wear many hats. So when it comes to marketing my own business, I have felt like the "Shoe Cobbler" because my client's marketing always comes first.
For more than a decade, I've had the honor of guiding business owners and leaders to develop a clear marketing story and strategies, so their business grows.
To help businesses build cutting-edge and competitive marketing strategies in 2023, here are expanded answers to some great marketing questions.
TikTok dominated in Social Media Last Year. Will it be the same in 2023?
TikTok is the app of choice for younger generations. And it's gaining popularity even faster than experts predicted. Currently, " TikTok has over one billion monthly active users." It continues to grow so yes, expect more of the same in 2023.
The fact is, any platform using video, reels, and stories is a smart strategy. 
The days of hard-selling on social media are over. People will only connect with brands that talk about themselves and their products. Instead, people want helpful information that they can use in their lives. 
They want an emotional connection to a brand and to know it shares their values. On social, brands are tailoring their content to tell a real story and build brand authenticity. Video is the best way to to build a connection and share your brand's story.
What are some effective marketing trends that are on the horizon?
With consumers spending more time on social media, smart business owners and marketers are focusing on video. Video marketing is a key part of any business digital strategy. And the good news is short content videos are all the rage.
According to HubSpot, "A staggering 90% of marketers using short-form video will increase or maintain their investment in 2023."
Short video content is a powerful new tool to communicate your brand's message. Create videos with easy to use tools like Canva, then share them on social media or embed in your website.
Keep in mind investing time to develop a solid social media marketing strategy using video is wise if you: 
Will use the platform 

Know your audience on the platform

Will create videos

Are consistent with using the platform

Have a clear message and marketing strategy
It's no longer a matter of whether consumers want to connect with brands but how - and video is one of the most effective ways to do so.
Additional Marketing Trends
Mobile optimization will be even more important.
More than half of website traffic comes from consumers' smartphones and tablets. The number of mobile users is only increasing. So mobile optimization of your website is critical in 2023.
Inbound marketing will remain a best practice for growing brands.
Since COVID-19, businesses have to get creative to get prospects' attention. Virtual events, meetings, and webinars are not going anywhere. 
Enter the rise of inbound marketing.
Inbound marketing focuses on building relationships with potential customers through valuable content and helping them find solutions to problems rather than interrupting their experience with sales messages.
Marketing strategies involve creating valuable content (blogs, social media, ebooks, emails) that meets your target audience's needs and buyer personas.
"Content marketing costs 62% less than traditional marketing, making its ROI significantly higher."
How do marketing and psychology go hand-in-hand?
Psychology is the scientific study of the mind and behavior.
Good marketing uses human behavior to understand and communicate to your target audience. Your customers have problems and are looking for solutions. Your job is to help them know you can help solve their problems. 
Our primitive brain has two main roles. To help us survive and thrive and to conserve calories. So when we communicate, we need to keep it simple. People want to know how you can solve their problems clearly and easily. 
That's why stories work so well. We understand and remember stories. I use psychology and storytelling to help my clients win with their marketing. 
Without realizing it, business marketing is often company-centered and not customer-centered. So the business messaging and all its communications are wrong. It's a domino effect. 
Many companies unknowingly make themselves the hero and not their customers. Their website, emails, social media, and blog content do not resonate with prospects. So all their marketing efforts are landing on def ears. 
Our customers are smart. They don't want to know how great you or your product is. They want to know that you can help them solve their problem. Then, if they feel they can trust you and are ready to take the next step, they will buy. 
Combining psychology and storytelling in marketing works. Make your customers the hero of your story. And if you need help, reach out. 
We've heard through the media that 2023 could bring a recession.
Usually – and especially for small businesses – the first expense to get cut is marketing when companies look at tightening their belts. Should this be reconsidered, and why?
As a small business, I understand the fear of a recession and the instinct to cut back. Marketing is an easy target, especially if you are still waiting to see the results of your investments. Think back to what the human mind seeks: to survive and thrive. When we are scared, we go into survival mode. 
However, cutting your marketing is dangerous to your business growth. Smart Marketing leads to more sales, so cutting out your marketing will cut into leads and future sales. As my friend and fellow marketer, Lisa Fahoruy, says, "cute the fat, not the muscle."
Consider:
Assess your marketing strategy and metrics. 

Look at what is working and what isn't. 

Change what isn't working. 

Look at your marketing message. 

Your offering could be excellent, but if your messaging isn't clear, your marketing will not resonate with your target audience. 

Remember, a confused mind never buys.

Have an outside party look at your website. Remember, you have 5 seconds to grab your visitor's attention. Prospects will leave and keep searching for solutions. Book a call if you want us to review your website and give you feedback. 
Why should small businesses consider hiring a marketing agency for their needs instead of doing it themselves?
Most company owners and leaders are so close to their businesses that they can't see: 
Is there marketing company-centric or customer-centric? 

Do they have a solid marketing foundation for success?

How to make their marketing work for them. 

Are they using insider language they think their customers understand? Confusing or clever images or using photos that are all about themselves. 
When you work with the right marketing agency, they have an outside perspective and can look clearly into your marketing to show you how to improve it. 
They can assess where you are, discuss your goals, then make a plan to help you to achieve them. Your marketing should work for you instead of costing you time, money, and frustration. As a marketing strategist, I can guide you through the process, so you feel confident about your marketing and have a clear path toward success. 
You are losing sales if your website, emails, lead magnets, or social media marketing aren't driving growth to your business. That all changes with clear marketing and sales funnel, which makes your customer the hero. 
Marketing should be easier, and it should work. We Can Help.
Book a call at kirchnermarketing.com to discuss your marketing goals and how we can help you reach them.
Many businesses need help to make their marketing work. Often they need help seeing from the eyes of their prospects. I help them change their marketing story so their business grows.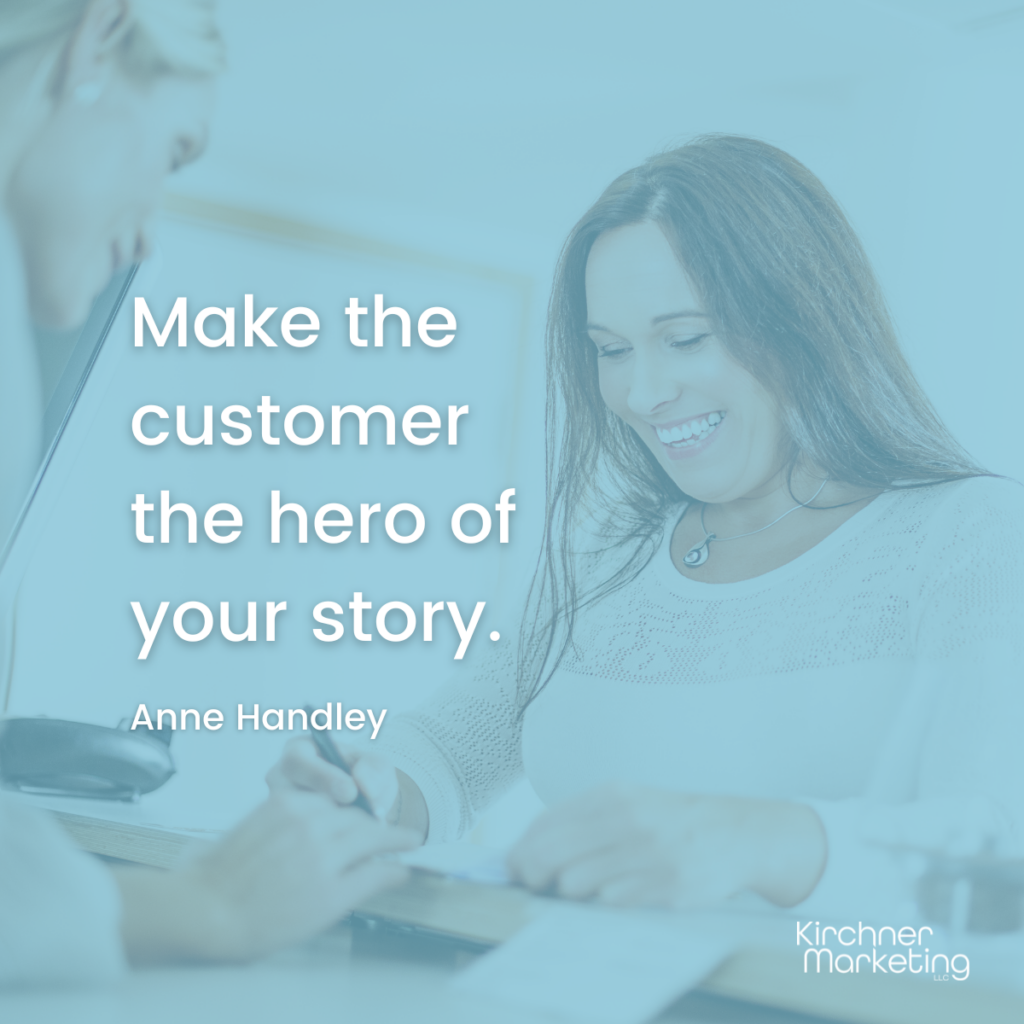 Now that you have more knowledge and answers, it's time to put them to good use so your business can thrive. With so much noise out there, it can be tough to figure out what works and what doesn't.
My goal is to help you cut through the clutter and focus on proven marketing strategies that will help you and your customers succeed. And if you need any help along the way, I'm here for you.